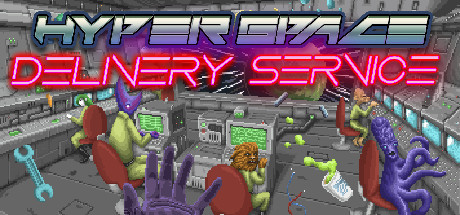 Hyperspace Delivery Service
Details
Store Page:
[[Please login to see this link.]]
Genre(s):
Action, Adventure, Indie, Simulation, Strategy
Developer:
Zotnip
Publisher:
Zotnip
Release Date:
Early 2019
Language(s):
English
Operating system(s):
Features
Single-player
Steam Achievements
Full controller support
Steam Cloud
About The Game
***COMING SOON!***
You've been hired by the Hyperspace Delivery Service to make a delivery to planet Miridian V.
Located on the other side of explored space, the trip to Miridian V will be a dangerous yet lucrative journey full of mad robots, space pirates, and unpredictable stellar phenomenon.
Can you and your crew survive the trip? Will you die from the dreaded Telunian flu? Hyperspace Delivery Service offers an exciting and challenging journey where you must manage your fuel, oxygen, food, and various other supplies to make your delivery within the target time.
Fight robot space pirates on the ground in retro FPS action. Fly through asteroid fields to rescue broken down ships. Experience thrilling space battles from the cockpit of your space ship in retro 3D space shooting action. Can you make it to Miridian V?
See you on the next delivery!
Features:
Retro pixel art graphics

Name your very own space ship

Fight robot pirates in retro FPS game-play

Trade with aliens

Shop at orbiting space stations

Manage your food, fuel, oxygen, ship repairs, credits, and much more to keep your ship running and crew alive

Name your crew members and watch them live or die by your decisions

Original soundtrack using Adlib sound card inspired sounds

Control your space ship in first person view to fend off pirate attacks

Dodge asteroids!

Help space citizens or leave them to suffer
System Requirements
Minimum:
OS:

Windows 8 and above


Processor:

1Ghz+ SSE2 instruction set support.


Memory:

2 GB RAM


Graphics:

Generally everything made since 2008 should work.


DirectX:

Version 9.0c


Storage:

400 MB available space
---
The mixture of genres all declined in retro style may make or break this game.