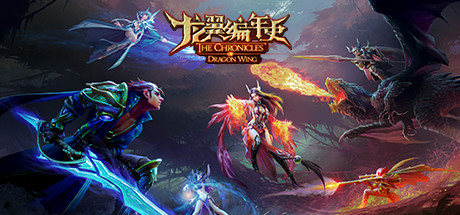 The Chronicles of Dragon Wing - Reborn
Details
Store Page:
[[Please login to see this link.]]
Genre(s):
Adventure, Casual, Massively Multiplayer, Simulation, Strategy
Developer:
Dragon Wing Studio
Publisher:
Dragon Wing Studio
Release Date:
16 Aug, 2017
Language(s):
Simplified Chinese
*
*
languages with full audio support
Operating system(s):
Features
Single-player
Multi-player
Online Multi-Player
About The Game
A warm monsoon has swept in east from the Miracle Sea, and the Baroque soldiers are ready to fight. The Elf Kingdom is in jeopardy at losing their homeland with Baroque at its doorstep, and they are left wondering: why has the powerful country of Dyster taken no action? The march of the Baroque has ravaged the entirety of the eastern half of the continent and – at the meantime, on the freezing land at the far west, the long silence elvish empire is eyeing on the western half covetously.
Description
The Chronicles of Dragon Wing was developed by FRogN Studio and adapted from the strategy board game of the same name. The Chronicles of Dragon Wing retains its form from the original characteristics of the board game, but also adds some changes based on the online environment. Throughout the game, the player will play the role of a military strategist, riding on the Dragon Wing's various battlefields. Through the use of gameplay mechanics like playing the role of a hero or the unpredictable magic crystal cards, the player must walk step by step through the map to defeat the other players to prove worthy of the title of Grand Master Strategist, and to bring peace to Dragon Wing.
Various modes
While players tend to enjoy the unpredictable strategy against others, we also prepared a single player mode. The plot includes twists and turns for all to explore, encourages the player to uncover the mysteries of Dragon Wing, and intense levels will push any veteran to their limits.
strategy
As a simulation game, players will not need to worry about a high APM (actions per minute), they will, of course, only need to worry about their strategies! Whether you are a new player to the simulation game type, or a veteran player, I believe that The Chronicles of Dragon Wings will provide a depth of strategy and beauty that will make you unable to stop!
System Requirements
Minimum:
OS:

Windows 7,10(32or64bit)


Processor:

Intel Core I3-7100


Memory:

4 GB RAM


Graphics:

NVIDIA® GeForce® GTX 480, Intel® HD Graphics 4400, ATI Radeon™ HD 5000


DirectX:

Version 9.0c


Network:

Broadband Internet connection


Storage:

2 GB available space
Recommended:
OS:

Windows 7,10(32or64bit)


Processor:

Intel Core I5-7500


Memory:

8 GB RAM


Graphics:

NVIDIA® GeForce® GTX 1060


DirectX:

Version 11


Network:

Broadband Internet connection


Storage:

2 GB available space