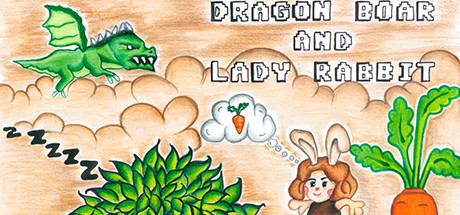 Dragon Boar and Lady Rabbit
Details
Store Page:
[[Please login to see this link.]]
Genre(s):
Adventure, Casual, Indie
Developer:
Classic Game Software
Publisher:
Classic Game Software
Release Date:
27 Dec, 2017
Language(s):
English
Operating system(s):
Features
Single-player
Full controller support
About The Game
Help Lady Rabbit to recover the carrots. Through her, you should be able to find the carrots. But, you will have to recover them all. You won't be alone though, Lady Rabbit will be helped by a lazy boar and a skilled dragon named Dargo.
Key Features:
* Created by the influence of the Master System games
* Relive a classic and nostalgic gameplay through the reconstruction of a CRT monitor
* Choose to play with the mode you prefer, you can select a style 80 or 70 years
* Use the strength of Lady Rabbit's desire to find carrots
* A lazy boar and a skilled dragon will help you in the course of the adventure
System Requirements
Minimum:
OS:
Microsoft Windows 7, 8, or 10
Processor:
CPU Dual Core 2.5 GHz or higher
Memory:
1 GB RAM
Graphics:
Intel HD 4000 / AMD series 7000 or higher
DirectX:
Version 9.0c
Storage:
164 MB available space
Recommended:
OS:
Microsoft Windows 7, 8, or 10
Processor:
CPU Dual Core 2.5 GHz or higher
Memory:
2 GB RAM
Graphics:
NVIDIA GeForce 650 / AMD series 7770 or higher
DirectX:
Version 9.0c
Storage:
164 MB available space
Latest version:
[[Please login to see this link.]]