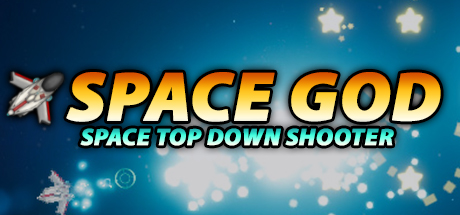 Space God
Details
Store Page:
[[Please login to see this link.]]
Genre(s):
Action, Casual, Indie
Developer:
Jellypig Games
Publisher:
PsychoFlux Entertainment,Jellypig Games
Release Date:
18 Apr, 2018
Language(s):
English, Spanish, Japanese, French, Italian, Dutch, German
Operating system(s):
Features
Single-player
Online Multi-Player
Online Co-op
Steam Achievements
Partial Controller Support
Steam Cloud
Steam Leaderboards
About The Game
Space God
is a 'hyper retro neon' style top-down shooting game. Play in single player, online co-op mode, or online multiplayer.
Don't stop, keep moving! and you might survive...
maybe.
Singleplayer, Online multiplayer and Co-op

Challenge mode and a leaderboard

Different stage objectives: Annihilation, Escape, Defense, and Survival

More than 20 unique weapons

More than 20 playable stages and 60 maps

3 difficulty levels: Normal, Hard, Insane
[b]DON'T STOP, KEEP MOVING!
[/b]
You must keep moving to avoid enemy attacks. Kill enemies, move on to the next stage, rinse and repeat. Feeling frisky? Try challenge mode and get higher score than your competitors.
[b]UPGRADE YOUR SHIP and WEAPONS
[/b]
You can unlock new ships and weapons using star coins earned from clearing the stages. Upgrade your ships and weapons to obtain a higher score.
[b]PLAY WITH OTHERS
[/b]
You can play online co-op mode and other modes via multiplayer menu. Play with your friends and assert your dominance!
[b]PREPARE YOURSELF
[/b]
It's a rocket science, but you don't need to know anything. You only need careful eyes and quick hands.
[b]DEVELOPER'S MESSAGE
[/b]
We are indie developes in South Korea, with only two people in the team. We hope you and your friends will enjoy the game. We want to continue to make fun, engaging games. Please encourage us!
System Requirements
Minimum:
OS:

Windows 7 SP1 or higher


Processor:

2.0 GHz Dual-Core CPU or better


Memory:

2 GB RAM


Graphics:

NVIDIA GeForce GT 400 series or better (1GB VRAM required)


DirectX:

Version 11


Network:

Broadband Internet connection


Storage:

256 MB available space
Release(s)
Space.God.RiP-DARKSiDERS
_________________
Windows 10 64bits
,
i7-6800k
,
GeForce GTX 980 TI
,
16GB RAM DDR4
SSD Kingston 120GB
,
SSD Samsung 850 EVO 500GB
,
HDD Hitachi 1To + 3 others HDDs Seagate
----------
You got issue(s) downloading files from Baidu ? Follow this
tutorial
.