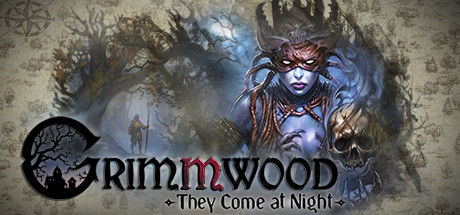 Grimmwood - They Come at Night
Details
Store Page:
[[Please login to see this link.]]
Genre(s):
Simulation, Strategy
Developer:
Big Moustache Games
Publisher:
Headup Games
Release Date:
2 Aug, 2018
Language(s):
English
*
, French, Spanish, Bulgarian
*
languages with full audio support
Operating system(s):
Features
Online Multi-Player
Online Co-op
About The Game
Grimmwood
is a challenging co-op game seamlessly blending elements of survival, strategy and exploration.
You're in an ageless, mystical forest, together with up to 30 other strangers, all of which are real, live players. You have a Village you need to defend because each night, around midnight, the monsters will attack. During the day you explore, gather resources, repair and build. But to be able to do all that you have to feed, drink and rest, because every action in the game has its cost.



[b]Features:
[/b]•Survive, against all odds, by turning a bunch of strangers into a fellowship.
•Huge, procedurally generated Forest map to explore – 600 tiles in size!
•Asynchronous multiplayer, "Follow" mode, 24 hour day cycle - play whenever you like, for as long as you like.
•Keep your body and your soul in check – Sanity and Conditions systems which will affect directly (and indirectly) your efficiency in everything you do.
•Strong emphasis on the social interaction – In-game Chat and Forum, where all key decisions are put up for discussion.
•Permadeath, roguelike style – everything you bring with you in the next Village is your knowledge and your ingenuity.
•Vote to expel the Villagers who don't contribute to the Village survival or simply try to ruin everybody's experience.

The World
The world of Grimmwood is engulfed by a nameless 16th century war raging across the continent. The Villagers are common folk, refugees from the big cities who seek sanctuary in the depths of the ageless Forest. Many of them have lost their loved ones, all of their belongings… everything, but their will to live and see another day.

The Village
The village, the survivors have discovered deep in the Forest, seems a lot older – probably even with a century. It is destitute of any signs of life – nothing to even hint on what might have happened to its former inhabitants.

The Monsters
The Forest is old and vast. There are "things" here never seen by any man… who lived to tell the tale. The Villagers are not wanted here – they only disturb the natural order of things in this dark and secluded part of the world. And they'll be often reminded of that.

The Mystical Forces
A lot of things that happen in the Forest go beyond anything the Villagers have ever experienced or have the capacity of understanding. Resurrection, mystical artefacts, herbs and potions with amazing effects on the human body – there's a lot to be discovered, examined and probably… feared.
System Requirements
Minimum:
OS:

Windows 7


Processor:

2.0 Ghz


Memory:

2 GB RAM


Graphics:

Intel HD Graphics 4000


DirectX:

Version 10


Storage:

800 MB available space
Recommended:
OS:

Windows 10


Processor:

3.0 Ghz


Memory:

4 GB RAM


Graphics:

NVIDIA GeForce GTX 650


DirectX:

Version 10


Network:

Broadband Internet connection


Storage:

800 MB available space