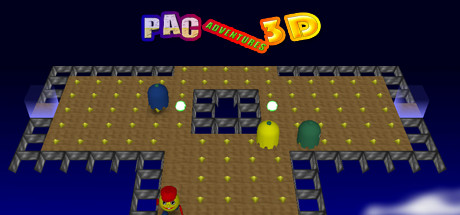 Pac Adventures 3D
Details
Store Page:
[[Please login to see this link.]]
Genre(s):
Action, Casual, Indie, Sports
Developer:
ThankGame.com
Publisher:
ThankGame.com
Release Date:
20 Jul, 2018
Language(s):
English
Operating system(s):
Features
Single-player
Multi-player
Local Multi-Player
Co-op
Local Co-op
About The Game
Discover the classic retro game all over again! In the new 3D mazes, you must feel your dexterity and sharpness, avoid or hunt back the monsters, eat all dots to win! It has 4 game modes and 180 levels: Classic Adventure (50 levels), Big Adventure (50 levels), Need For Speed (50 levels), Pac SokoBan (30 levels). This game supports single player mode and multi-player mode that allows two players to play from the same computer cooperatively or competitively.
Game Features:
Smooth game play
Exciting background music
Single or multi player mode
Good for family fun
Make you laugh!
Game Controls (with keyboard)
Player 1:
Left arrow key - move left
Right arrow key - move right
Up arrow key - move up
Down arrow key - move down
Player 2:
A - move left
D - move right
W - move up
S - move down
System Requirements
Minimum:
Memory:

1024 MB RAM


DirectX:

Version 9.0


Storage:

50 MB available space