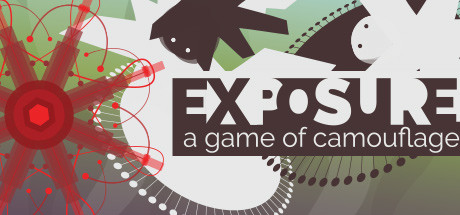 EXPOSURE
Details
Store Page:
[[Please login to see this link.]]
Genre(s):
Action, Adventure, Casual, Indie, Simulation
Developer:
The Sheep's Meow
Publisher:
The Sheep's Meow
Release Date:
2018
Language(s):
English
Operating system(s):
Features
Single-player
Full controller support
About The Game
EXPOSURE, a game of camouflage.
Survive in an evolving environment by morphing between light & dark forms to camouflage from your predators.
But be careful:
you won't be able to see yourself
either. Lose the ability to see where you are, and learn to feel & know where you're going.
EXPOSURE
Being out in the open is unsafe. When you're playing well, you can't see yourself. Learn to know and feel where you are.
Intuitive Controls
Move in any direction, and switch between light & dark. Begin as a defenseless bug, but evolve into something greater based on your path.
Entrancing World
Over 36 unique branching paths through 11 procedurally generated areas. Psychedelic minimalist design and atmospheric soundscapes.
Intense Bosses
Each area introduces new predators and parasites. Though everything is much more powerful than you, everything has a weakness.
Daily Challenge
When you play the Daily Challenge, you only get one chance at it. Give it all your focus!
Leaderboards
Discover the fastest route, or play to create the largest population. The Daily Challenge has its own separate leaderboard.
... and secrets!

System Requirements
Minimum:
OS:

Windows 7


Processor:

Intel i5-3317U @ 1.7 GHz


Memory:

2 GB RAM


Graphics:

GeForce 9400M


Storage:

200 MB available space
---
Not to be confused with
[[Please login to see this link.]]
(same title, just in all caps, completely different otherwise)