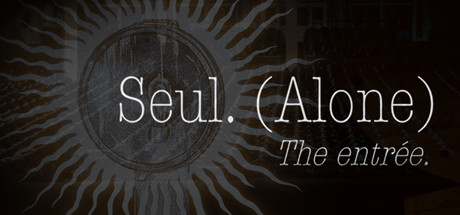 Seul (Alone): The entrée
Details
Store Page:
[[Please login to see this link.]]
Genre(s):
Gore, Adventure, Indie, RPG
Developer:
Paranormal Games
Publisher:
Paranormal Games
Release Date:
30 Aug, 2018
Language(s):
English
*
*
languages with full audio support
Operating system(s):
Features
Single-player
About The Game
CONTENT WARNING. THIS GAME CONTAINS IMAGES OF MEDICAL-SURGICAL HORROR & BODY HORROR THAT SOME PLAYERS MAY FIND GRAPHIC AND/OR DISTURBING.
Seul.(Alone) is aimed to be a detective style game where every choice has weight you can feel, but also its about nothing; like how dreams can feel at times.
It seems so heavy and important to the dreamer while the dream is happening but when one wakes it seems to lose all its importance or even its sensibility. The weight of it has dissipated and you are left with this odd out of place feeling while you lay there replaying the memory of the dream you just had.
Looking deeper at Seul.(Alone) it is a philosophical thriller, meaning it is a thriller based on philosophical ideas and contains horror elements. A narrative told with ideas of nihilism, existentialism, surrealism, solipsism and absurdism. The story plays on these thoughts but also presents some dark Lynchian kind of world where nothing makes much sense at first glance but as one adapts to it, when it manages to invade you; you begin to see that mostly everything is staged within the game for a reason, a motivation sits behind every image and sentence.
But at times those dreams can still affect you if you lay there and really begin to pull them apart and ask why, what was the reason for that? Where did those thoughts come from? What is my subconscious communicating, where are the links to my life? Now you are studying the dream… and there's a whole ocean of stuff behind that now, connections, motivations and meanings. This is what I want to achieve in Seul.(Alone) and you mostly ever find yourself studying those areas of your life when you are truly Seul.(Alone).
System Requirements
Minimum:
OS:

Windows 7


Processor:

CPU 1 Ghz or higher


Memory:

512 MB RAM


Graphics:

Integrated graphics


DirectX:

Version 9.0


Storage:

300 MB available space


Sound Card:

Any Sound Card
Recommended:
OS:

Windows 10


Processor:

i5 CPU


Memory:

1024 MB RAM


Graphics:

Dedicated Graphics Card


DirectX:

Version 9.0


Storage:

1000 MB available space


Sound Card:

Any Sound Card